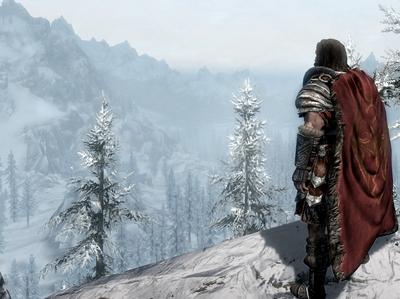 Source: www.nexusmods.com
In silver armor strode he high
Across the steely northern sky
The wind did whip around him strong
He did not notice, sang a song
Of tales of deeds brave soldiers do
And songs of lovers, false and true
The gold sun could not crack the gray
That made it night though it was day
But snow was coming, soft and fair
And only she could make him care
And smother all his riven screams
That lurked among the nightmare streams
She'd calm his temper, take him deep
Into an alabaster keep
And say unto the nightmares, 'cease.'
And bring him to a blissful peace
She'd smooth his frozen, furrowed brow
And kiss him, so to say 'Hush now
You wild and wondrous silly wind;
you'll harm us all, and will have sinned.
But I, your crystalled succor here,
Will guard your sleep, so do not fear
And rest here through the quiet night
Wrapped in my snowy robe of white
And spend your rage another day
When I must melt and go away
And know we'll meet another time
You have my love, though icy clime
Is not meet for a lover's kiss
But I will try, so this, and this,
to frost your cheek to ivory pale,
but not my heart; I'll turn to hail.'
He'd laugh to hear her jesting so
And so to happy slumber go
And making love a blizzard form
Their frigid hearts would slowly warm
Their passion spent, the earth will sting
The afterglow shall turn to spring
And die anew shall wind and snow
They will not see the flowers grow
But as the blossoms burst the seams
Still holding hands...
The Winter dreams.