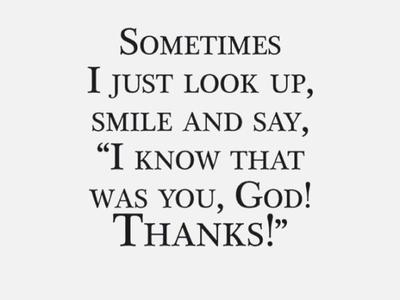 Source: http://vrpe.me/quote/49-gutsy-god-is-awesome-quotes/
Why is it when all seems to be going well, something BAD happens? I mean, it's not the worst, because then what I do is think about how much worse things could be. It's funny how I used to let these small BAD things ruin my days and nights. Now for some reason, my belief in God has me feeling like, oh well, it could be worse! And God's got my back! He always has. How else did I get through my crazy life?
I've had so many ups and downs. But the downs could never keep me down because with God always picking me up and carrying me through, I survived it all. But still I wonder, "God, why is this happening to me? Why is it when I get through one crazy obstacle, there's always one just around the corner waiting to happen to me? And I know that I am not the only one, but there are people out there that just have the blessings to dodge crazy things from happening MOST of their lives!"
Anyway, again, things could be much worse. God knows what he's doing. I just need to keep having faith and just keep trusting that he is going to continue to walk by my side or carry me.
Thank you God for sticking by me even when I dont always stick by you.
Do you believe in God or a higher power? If not, why not? If yes, what has he carried you through? Have you ever thought about it and ended up smiling and thinking, "Wow, thank you God!"?