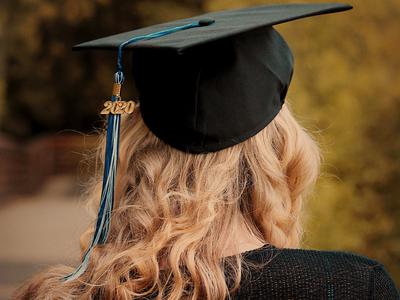 Source: Karly Jones on unsplash.com
Did you know love only costs $22.96?
Pizza — 7.99
Balloon — 1.99
Book — 6.99
Candy — 5.00
Poster-board — .99
Recently, a group of adults who volunteer for our high school church youth group spent an afternoon making surprise house calls to our graduating high school seniors. It took us 4.5 hours to make 13 stops. The total time and cost of this surprise were minimal, but you would have thought these students and their families won the lottery.
Parents (who were in on the surprise) stood by with cameras flashing, video rolling, and tears streaming. The students stood gawking at us in stunned disbelief that we were there; that we would actually take the time to personally stop by and congratulate and celebrate each and every one of them. House after house the same scene unfolded.
A caravan of cars pulled up to a senior house honking horns and shouting out congratulations. One person from our group rang the doorbell and presented our modest gifts, (a large pizza, balloon, book, and bag of candy), to our senior friend. The rest of us stayed carefully 6 feet away holding up signs and clapping like crazy. We talked and laughed and asked them questions. What are you doing after graduation? What will you be studying? How has quarantine been going? Our house visit didn't last more than 10 minutes before we loaded back in our vehicles and skirted to the next destination.
That evening we invited all the seniors to hop on a 'Senior Only' zoom call. We hung out on this call for nearly 2 hours, all of us lingering, not wanting to disconnect from one another. We offered words of encouragement and prayed over them. As the call came to an end, one senior broke out his ukulele and we all sung along to the song, "Hold Us Together" by Matt Maher:
This is the first day of the rest of your life
This is the first day of the rest of your life
Oh, 'cause even in the dark you can still see the light
It's gonna be alright, oh, it's gonna be alright
Love will hold us together
Make us a shelter to weather the storm
And I'll be my brother's keeper
So, the whole world will know that we're not alone
THIS IS THE FIRST DAY OF THE REST OF YOUR LIFE
Across the country, we are stepping into the graduation season. No one would argue the fact it's been a crazy, unprecedented, maddening, disappointing, (insert a hundred adjectives here), few months. Many universities already held virtual ceremonies. Some have promised to reschedule a traditional ceremony when conditions are safe to do so. High schools are currently attempting to navigate this unknown terrain.
Students and their parents have been grappling with the realization the end of the school year would not go as planned. No final goodbyes to classmates and teachers. No last time to walk the halls or campus. Sports seasons, proms, graduation, and graduation parties, all canceled. This major milestone would certainly be one for the history books, but not in a way anyone hoped or imagined.
How then could this be the first day of the rest of your life?
With the weight of this season on the shoulders of its graduates, perspective is everything. While traditional commencement ceremonies are not occurring, graduation is still happening. Degrees will be conferred. The next chapter of your life will begin. And it's gonna be alright.
The class of 2020 is strong; perhaps stronger than any of its predecessors. Adversity builds resilience, resilience builds character, and character builds leaders. The class of 2020, then, is a class of leaders unlike any we've seen. In that, there is hope.
EVEN IN THE DARK, YOU CAN STILL SEE THE LIGHT
We've seen tributes from missed proms and graduations from celebrities and politicians. Petitions and movements spearheaded by school administrators and parents have circulated. Social media was flooded with people posting their senior picture with the caption #seniorstrong or #supportseniors.
High schools delivered signs to front yards, paid for highway billboards, and hosted graduation parades. One school's stadium and baseball field lights and scoreboard have been turned on every FRIDAY night during the month of May at 8:20 PM (20:20) in honor of their 2020 graduates.
Creativity has exploded with ways to recognize and honor students.
And yet, all of these efforts really can't speak to the depth of loss these seniors and their parents are feeling. But in all of the heartache, there is light knowing you are not alone.
LOVE WILL HOLD US TOGETHER
It was incredibly rewarding to be a part of the senior surprise house calls, but it meant something entirely different to those families. Parents were moved to see a group of adults make time to individually honor their child. And our senior friends could not deny that they were seen, known and loved.
Isn't that what we all want in life? We step into the chaos, brokenness, and valleys of people's lives to help make a shelter for them as they weather the storm. This storm is unlike any we've faced, but we've seen over and over how love can hold us all together.
And it doesn't cost much…$22.96 to be exact.