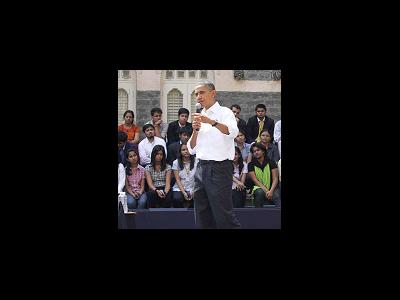 The feelers of
Kashmir
solution coming on the heels of
US President Barrack Obama
's forthcoming visit to India a welcome sign is hugely optimistic as the volatile situation in the Indian sub-continent sounds alarm bells warranting an immediate attention to solve the knotty problem of Kashmir created through occupation.
Pakistan's ex-foreign minister
Khurshid A Kasuri
of former President Parvez Musharraf's government claims that India, Pakistan had a solution for Kashmir in 2007 implementable and acceptable to the leadership of both countries. (The Hindu: January 21, 2015). In his book
Neither Hawk Nor Dove
to be published next month Kasuri said "it would contain details that are "true" even if "it is going to make people angry". The "robust" backchannel diplomacy, as reported, had helped two sides to arrive at a secret document outlining the "contours of a political settlement on Kashmir".
However, the above referred "secret political settlement" would still face the lacuna as the leadership of Kashmir was not taken on board and deliberately kept away perhaps to leave an option open to create a muddle to complicate issue in future. The four-point formula referred to by Kasuri would be a meaningless exercise unless discussed thoroughly with Kashmiri leadership to seek their consent to make it practical, agreeable and politically adequate.
Any solution agreed upon by all stakeholders must be ratified and guaranteed by international community and the United Nations. It is feared that a somersault by any party could make the solution null & void ending into political fiasco and waste of time. Thus international guarantees become imperative and indispensable.
In an interview (January 22, 2015) renowned Indian journalist Shekhar Gupta outlines US President Obama's visionary geo-political issues making headlines. Stressing the need to improve in the areas of trade, creation of more jobs, cooperation against terrorism and working together to prevent the spread of terrorism, the President iterated that "good India-US relationship has to be based on the same principles as with our other close partners around the world. The leadership of the two countries has to agree on a course of action with intent to implement decisions made and to "make sure that words are matched by deeds".
Referring to Pakistan facing the threat of terrorism the President sympathised with the senseless slaughter of so many young students and teachers at the school in Peshawar, a painful reminder that the terrorism is faced by everybody. "The people who indulge in terrorism claiming to do so in the name of religion are betraying their own faiths".
President Obama is to cut short his planned visit to India to pay respects on his behalf and American people upon the death of King Abdullah of Saudi Arabia. It looks like Indian superpower sensitivities are deeply touched and cannot come to terms with US President's priorities. Indian media after the statement from White House, toned down the fervour of the high profile visit and do not seem to be pleased with the President cutting his visit short.
Times of India depicting a caricature of President Obama nicknamed as "Bharat Ombama" highlights the outstanding performance of expatriate American or British Indians and learned scholars of Indian origin like Mohandas Gandhi, Swami Vivekananda, M N Roy, Jayaprakash Narayan and Dalit leader B R Ambedkar. With the passage of time, the slave labour of 19th century did wonderfully well in the fields of art, culture, science & technology and is most respected ethnic identity.
It is claimed that Indian-Americans haven't enjoyed as much recognition as they have during the Obama years. "Obama has catapulted the community to new heights". It is also claimed that Indian –Americans are the envy of many other ethnicities and argued that "some Pakistani-Americans have even written about trying to pass off as Indian-Americans because of the stigma attached to their country because of its association with terrorism".
While finding it remarkable for Indian Prime Minister
Narendra Modi
to rise from a tea-seller to a prime position of the country like India, US President believed the two countries to continue striving hard to live up to founding ideals, racial, ethnic and religious diversity. The President added that emerging economies like India must have a greater voice in global economic decision making and to that effect a "reformed" United Nations Security Council should include India as a permanent member.
"
Fix Kashmir for UN permanent seat
" and the tone and language hasn't changed since President Clinton addressing a gathering of Indian community in Washington replied to a question from audience when asked "Mr President don't you think it is time for India to be included in UN Security Council as a permanent member". President Clinton replied "Yes it can happen tomorrow, but you have to solve Kashmir first".