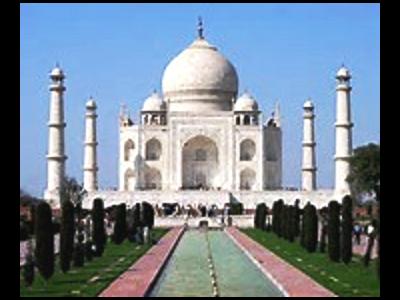 Source: Mogul Taj Mahal
India's spokesperson in the External Affairs Ministry,
Syed Akbaruddin
rejects outright intervention of third party to solve Kashmir Issue. This was in reply to Pakistan's recent official statement that Kashmir needs a discussion involving the popular leadership of Kashmir. In the new turn of events, a probable policy shift in Indian approach towards Kashmir seems gaining ground when Kashmir is referred to as "A third party".
India, in the past, successfully managed to put at rest the involvement of United Nations Security Council (UNSC) intervention through its 19 odd Resolutions passed to accord right of self-determination to people of Kashmir. Moreover, it also tried its best to keep Kashmir out of the equation to impress upon the world community that 'Kashmir was India's internal problem'.
Pakistan now more vocal to voice its official stand than ever before vehemently stresses that Kashmir must be solved as per the Resolutions of the UNSC and vitally important participation of Kashmir leadership in any dialogue process will conclude into a permanent solution of this age-old problem.
The powers on international level traditionally endeavour directly or indirectly to mediate and impress upon India and Pakistan to find a solution but Indian sensitivities towards the issue complicates it to result in gloom and frustration. In this context the visit of US
President Obama
to India in the recent past was termed as a positive step and concerned quarters visualised a tangible positive outcome. There was a slow but a definite pause in the hostilities, rhetoric and narrative showing intent to resolve issues on the table amicably rather than indulging in war hysteria.
The political pressure from international community somewhat eased, the tempo of belligerent political statements on both sides has gained momentum. Pakistan, it seems, has come to grips with its internal political turmoil, control on terrorism and a quantum leap in its relations with Afghanistan. India after seeking a role rebuilding Afghanistan invested billions expecting a bigger partnership, a foothold for its future strategy to gain access to Central Asia. It would also, as believed, allow it to keep Pakistan engaged on the western border to counter the pressure it receives in handling insurgency and uprising in Kashmir.
Anthony Wanis St John
of Fletcher School of Law and Diplomacy, Tufts University in his book
Third party mediation over Kashmir
elaborating historical background of Kashmir conflict writes: "The progress and status of the dispute, as well as the dynamics of the triadic relationship between India and Pakistan and the US examined reveal that the interests inherent in the US-India and the US-Pakistan relationships are converging. Strategic and economic interests which facilitate third party intervention are each considered in turn. The role of the US as mediating party is then brought into focus against a background of geo-political change and bilateral stalemate".
Indian Prime Minister
Narendra Modi
's negative impression as chief minister of Gujarat on local and international level required new dimensions to improve on the image so that a leader of one billion people would be accepted as one among the equals to conduct business and diplomatic relations. It is observed that the government machinery in India works hard to better that image for Prime Minister Modi to be seen as an upcoming statesman to gain recognition on global political arena. Mr Modi in the new situation finds it hard to fulfil the agenda of election manifesto formulated and supported by various hardliner religious parties giving rise to serious opposition from people voting him to power.
The ongoing offensive against Christians and Muslims in particular is not showing any signs of let up like burning of Churches, forcible conversion of Christian and Muslims jeopardising the efforts to correct the smeared image of prime minister and the government. A petition by Hindu lawyers of Agra filed (reported March, 27, 2015) in the court asking government to handover
Taj Mahal
claiming it to be a temple of Hindu deity Shiva, does not augur well raising lots of eyebrows. The political support extended by religious groups aligned to ruling BJP party, if withdrawn, could cause a dent in Mr Modi's powerbase which could derail the running of his government at the centre in weeks or months to come.
Janata Dal (U) veteran leader
K C Tiyagi
observes that government of Prime Minister Modi , in the new development, is following the policy of his predecessor A B Vajpayee who he says had initiated a dialogue process with Pakistan and Kashmiri leadership as well. He claimed that "it will include all political groups irrespective of their ideological views and predictions and this dialogue would seek to build a broad-based consensus on resolution of all outstanding issues of Kashmir".
On a positive note a lot, as envisaged, is happening using back channel parleys, diplomacy, people to people contacts which many believe could result in confidence building measures ultimately paving the way for a constructive dialogue among India, Pakistan and Kashmir. Isolating Kashmir is in nobody's interest or political benefit but on the contrary will only worsen the situation creating scenario detrimental for all sides even involving the world at large.