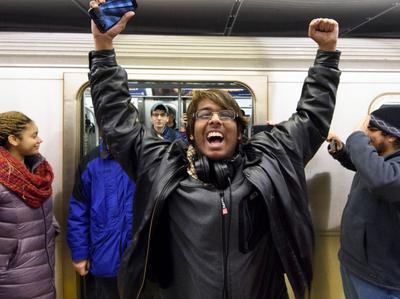 Source: From "am New York" - http://www.amny.com/
At last after so many years of construction,the Second Avenue Subway premiered on the upper east side of Manhattan New York to a resounding triumph. This will also be the star attraction for more & more gentrification of the upper east side with layers & layers of on going ceaseless upper east side gentrification non stop! How many years was this 21st century now Second Avenue Subway icon in the making toppling many business merchants & businesses along the way. We have Congresswoman Carol Maloney to thank for this dream come true. Progressive thinking party trailblazer community advocates & elected political officials thinking out of the box are the shakers of change making positive history happen & better living for the masses. Ms.Maloney made it possible with her astute planning & business political acumen. Maloney is a fixture of what a strong political icon can do & gets done for an entire community.
The first early riders were Governor Cuomo Ms.Maloney & New York Assembly member Rebecca Seawright who's a bulwark of upper east side activism at its strongest & New York slickest from everything to tenant's rights to NY animal wildlife hero! The creation of this Second Avenue monolith has taken a lot of business lives away never to be seen again.On the positive side it's ascending to a new era of unimaginable visions of glory for the upper east side! The effect will be pointed more sharply on real estate bonanzas because of the Second Avenue Subway more & more people will want to live here.The world will come here to rent & buy zillion dollar condos as more & more condos are rising to touch megalith heights touching the skies with costs to match!
The aftereffects of this Goliath fortress of 21st century transportation will mean higher rents & for those real estate owners more value on their upper east side properties since living here or owning real estate here is equivalent to winning a dozen lotteries or more. In spite of all this rent regulation & tenant's empowerment is being kept alive by NY Assembly Member Rebecca Seawright a community power lightning rod & a force to be reckoned with! The entire community is lucky to have these superwomen Congresswoman Carol Maloney & NY Assembly Member Rebecca Seawright at
rebeccaseawright.com
in control fulfilling their roles as watchers & effective doers of the upper east side community. Although the Second Avenue subway was built to be very deep inside one can only hope that no urgent emergency will ever happen & that emergency services will always be functioning no matter what. Going to Brooklyn on the Second Avenue Subway was never so fast & going to the village in 15 minutes is riding in style.
At 1355 First Avenue in Manhattan NY full floors for 40 million or more have been bought & the residents don't even have to live there all before the Second Avenue Subway opened. The 40 million dollar floors belong to them & attendance isn't taken & does not matter! A whole floor was bought at 40 million & another one for 60 million dollars. This to many is a new real estate phenomenon which is greatly fascinating & also enigmatic at the same time. It's no longer apartments at sky high prices but whole floors being bought. Sometimes I'm aghast by the absence of residents never coming in & out of that particular 1355 First Avenue building. One must get used to zillion dollar condo towers where residents are forever absent. It's the new vogue & the new trend for billionaire condo buildings indeed. The doormen just stand around all day in this multi billion dollar ghost building where luxury & mystery invisible residents abound as the value of these properties skyrocket faster than the speed of light!
In regular rentals many landlords who find the absence of tenants visible in their rental homes would receive eviction notices from their landlords from being absent from their rental homes & accuse the tenants of really living elsewhere other than their rental homes. This is how many innocent tenants who vacation too long or are absent too long from their rental apartments LOSE their rental homes & everything else in NYC. The courts are in favor of these landlords who plead tenant absence from their rental homes. Some tenants are padlocked out. However it's entirely a different story when a billionaire pays 40 million or 60 million dollars for an entire luxury condo floor at 1355 First Avenue & other similar condo residences around the city. Residential condo owner presence is not necessary when you've paid 40 million or 60 million dollars for an entire condo floor that's yours!
But against the backdrop of this lush plush Second Avenue Subway pointed light they're many low points that many upper east side residents suffer from because of the blatantly unlawful transgressions of landlords, developers & corrupt contractors. New York Assembly Member Rebecca Seawright held a news media conference exposing the transgressions of the oligarchs who're the landlords, the developers & sloppy indiscreet sometimes lawless contractors who got away with murder until NY Assembly Rebecca Seawright learned about the illegal chaos that was going on from the rental tenants at 1290 & 1288 First Avenue. This news media conference was significant in what NY Assembly Member Rebecca Seawright pointed out that their buildings were Department of Health emergencies & that the construction in those buildings were toxic full of toxic substances like lead for the residents which was a hazard to the tenants in those buildings. These are serious health risks to the tenants which Rebecca Seawright reported right away & rightly so!
Thanks to the intervention of NY Assembly Member Rebecca Seawright called the Department of Health to stop all construction work & indeed it was halted to a huge halt!! In defense of the tenants of those buildings Rebecca Seawright stood for the rights of the tenants to live in a healthy non toxic environment calling for the removal of lead & all other toxic substances in the building including toxic dust. All residents at those buildings are working with the prolific & can do elected NY Assembly Member Rebecca Seawright & all of the oligarchs the landlords, the disregarding contractors owners & developers are on notice because tenant residents can not be taken for a ride when serious violations are reported to NY Assembly Member Rebecca Seawright. Contractors owners & developers doing illegal construction & oligarch landlords can not get away undoing the rights of the tenant's under the guise of NY Assembly Speaker Rebecca Seawright!! So besides this new upper east side marvel called the Second Avenue Subway a thumbs up for the Maloney Seawright leadership & the tenacity of a community on the move riding the silver lining of Manhattan's New York avatar world of cosmopolitan metropolis where diverse worlds meet to have power tete a tete summit meetings of mammoth development.