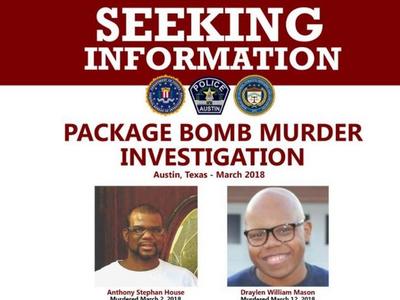 Source: Wanted Poster with vicitmsphotos
Updated from the original
By The Prophet of Life
Round Rock Texas
Imagine getting a package delivered to your house. You didn't order anything. Perhaps your spouse ordered something to surprise you with. You bring it into your home. You bring iot into the kitchen. You get a scissors and begin cutting it open. Suddenly, it exploded. You sit there dazed and bleeding, wondering what happened.
The Austin Serial bomber, Mark Anthony Conditt, began his reign of terror on March 2nd when an African American male was killed by a package that was delivered to his doorstep. Two more bombs exploded on March 12th one killing an African American teenager and the other causing life threatening injuries to a 75 year old Hispanic woman. A fourth bomb broke the silence of an Austin day injury two white men on March 18th. That bomb had a tripwire which made it more sophisticated and dangerous than the other three. A fifth bomb exploded in a Fed Ex facility in Texas, injuring one employee.
It was the Fed Ex bomb that was the serial bomber's undoing. Surveillance video showed the 24 year old white man dropping off the package. Witnesses saw him too and were interviewed by law enforcement. It wasn't long before law enforcement officials trailed the suspect to a motel outside of Austin Texas. The police officers who found him didn't want to approach him right away due to the extreme danger of dealing with someone who may have multiple bombs with him. They called for backup and awaited armored vehicles. During this wait, a SWAT team arrived.
Then the suspect ran out of his room, jumped into his car and took off. Police and SWAT officers gave chase. After a short while, the suspect pulled his car over in an area behind the motel. SWAT officers drew their weapons and slowly approached the car. The man in=side appeared agitated and was fumbling with something. As one SWAT officer approached the vehicle and got close to the window he was rocked back by an explosion, The force of the blast caused him to not only fall backwards but to discharge his weapon as well, The suspect was killed instantly suffering multiple injuries from the act of blowing himself up.
Law enforcement officials were worried there may be some more package or trip wire bombs out there or the man may have accomplishes who can send package bombs on his behalf. Conditt was getting bolder and sophisticated with each bombing. He had targeted people of color in his first three bombings. Police and FBI officials searched the man's belongings and residence for a manifesto. They only found a 12 minute video confession to committing the crimes His death leaves his reasons for the bombings a mystery without any communicated reasons as to why he did the bombings or how and why he chose his victims.
Copyright 2018 Loveforce International Publishing Company. All Rights Reserved.