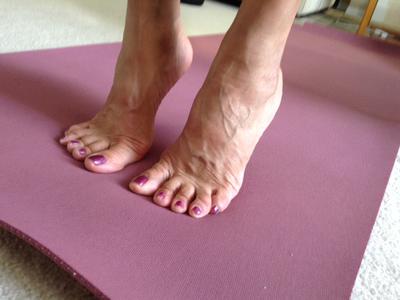 Source: https://foundandbliss.blogspot.com
So many changes at this time of year. From our little ones heading into their first classroom to those starting their first official day of retirement, and everyone in-between. How do we manage? How do we cope? What are we teaching each other?
This is a month when I feel it's a time of change and transition. Just like my fellow yoga practitioners as we said goodbye to our teacher, you too might be facing a new you.
I remember when our teacher was new. Of course we all had thoughts in our heads. Would she challenge us? Would we like her style? Would we stay or go?
As with all our goodbyes, in every aspect of our previous experiences we must evaluate what this chapter in our lives brought to us. When our teacher first told us to breathe in to a count of 4 and exhale to the same count and then increased it to 6 or 7, yes there was a moment of stillness, of surprise. What? or for some of us WHAT? How could that be? How could we do that?
No one wants to look like a fool.
However as time went on, we were able to do precisely "that". We were able to challenge our previous thoughts and push our boundaries. Oh, it was definitely not comfortable, let's say that right now! And although the practise of yoga is supposed to be our practise (we're all learning something), not the practise of the person beside you (put away the comparison), not what you see in Yoga Journal (not everyone can bend like that, honestly), not what you see on Facebook (show me the real you not a meme), you still have that moment of but...but...but. We resist.
"What you resist, persists."
Carl Jung
We want to be in control, because we are just human, we want to fit in and we don't want to stand out (foolishly) except if we stand out as awesome, magnificent, better than any one else we know. Right?
Our egos can speak really really loudly.
That's why yoga has taught me so many things. That's why we are told to stay in the stillness between our breaths, because it is silent, uncomfortable, uncertain, and we just have to wait. Something that most of us are not practising each day off the mat. We want to get the rewards without putting in the time to learn. We want the hack.
As Erwin Raphael McManus shared in The Last Arrow: Save Nothing for the Next Life we want the (perfect) life without suffering the wounds, without the scars. We want it to happen easily.
Yoga has taught me about saying goodbye to old beliefs. It can give you the courage to breathe into the unknown. To stand on your toes. To reach. It can teach you to trust. And to know that you will grow and get better, if you allow it. But it is hard work. It is commitment. It is discipline. It is saying goodbye to what was.
It is saying hello to what is to come.
How yoga is teaching me to say goodbye well. (Tweet This)
Lessons on the yoga mat, breathing and reaching into change. (Tweet This)