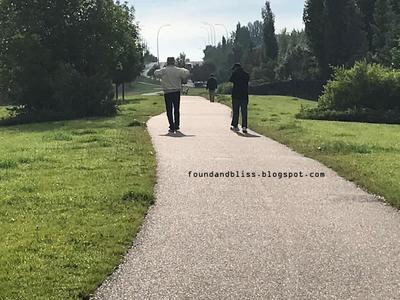 Source: https://foundandbliss.blogspot.com
Anyone who sees me on the walking path might wonder what I do when I am finished or where I started from. I know I often think about those whom I see walking on a regular basis.
At which point do our actions become our habits?
Consider these two gents who meet at least as often as I am on that path and talk in their native language. They move to a silent symphony, with arms up and down, sideways and in circles.
Then they sit on the same bench each time. They tap their laps and then their heads and continue their song.
How long have they been doing this, I think to myself. Do they also meet on the days when I don't walk? What is their habit?
I see a lady walking with a different dog quite frequently. One day my curiousity can't be contained and she tells me that she fosters dogs who are waiting for a permanent home due to some circumstance. The particular brown lab puppy that is dancing at her heels is the subject of a divorce. Neither party can accommodate this sweetie right now.
So this walking lady will keep her as she has many "orphans" over the years. It is who she is, it is her habit. (Tweet This)
My husband and I went to the Calgary Stampede (The Greatest Outdoor Show on Earth) yesterday. We saw first-timers, tourists, and those who knew which building to go to for the experience they wanted. We saw the young moms pushing strollers and the elderly with their walkers.
Were the youngsters forming a habit? I hope so. Because as time goes on, they will have so many stories to tell! When I looked at the elders, I had to think, how many years have they been coming? What memories did they have of attending over the years? Perhaps they reminisced of going with their own young children or holding hands with their sweetheart one special year.
Each day whether we are walking or sitting, laughing or bored, our habits are formed. Before we know it, we become them. (Tweet This)
Each day I see those who struggle to be mobile or to keep their minds clear. They do it not because it is easy for them but because somewhere along the line they decided that this is who they are. This is the habit they are going to keep.
If you have a goal of strength or survival, of friendship, of giving support, of not complaining, of not over-eating, of staying clean, of taking care of yourself, please do it today.
It's a good thing to do. One more time can make a habit. (Tweet This)