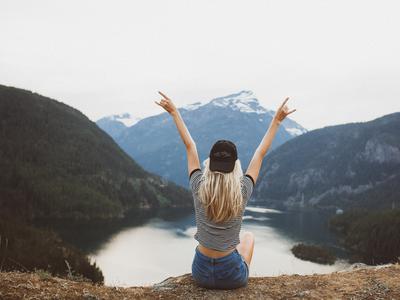 Source: Unsplash
All my life I had an idea of what I wanted to do, where I wanted to go, who I wanted to be. I wanted to be a Disney princess, a Rockstar, and a best-selling author. Marriage, motherhood and a quaint beach house were also in my plans. I wanted to be financially independent, have a rewarding career and most importantly, be happy.
Turns out, many of those dreams, in fact, came true. I did get to work at Walt Disney World, though not as a princess. I do sing in a band and write, but have yet to receive a record or book deal. My life has been blessed with a wonderful marriage and 4 beautiful grown boys. Happiness surrounds us.
THE WAKE-UP CALL
It was a clear Friday morning of my anniversary weekend when the phone call came in. It disrupted what I knew to be safe and sure. This call shook my world and my confidence and forced me to face a new normal – one I was not comfortable with or knew how to navigate.
"I'm sorry, Jill. Due to poor company performance, we had to make some difficult decisions. Today will be your last day with us…"
I barely heard anything on the rest of the call. I'd never been laid off before. What do I do? Who do I tell? What do I say? Where do I go from here?
Telling my husband was really hard. Telling my kids was harder. I don't know why, but I felt like I disappointed them in some way. With each conversation, I was greeted with an uncomfortable silence at first, followed by, "So what are you going to do next, Mom?"
Great question, kids.
I felt paralyzed, numb, uncertain, embarrassed, shocked, frustrated, angry, lost.
WHERE TO GO FROM HERE?
For nearly 2 weeks I wandered around the house looking at the walls, pacing the floor and alternating between crying and screaming into a pillow. When I finally realized that wasn't going to change the unchangeable, I resolved to move forward. After all, I had 4 pairs of curious eyes watching me, and I knew how I responded would be a lesson they would carry.
I have a wooden sign in my office that reads, "not all those who wander are lost". It's taken some deep soul-searching to realize and accept that professionally, I've been wandering around for the majority of my life. I would jump from one job opportunity to the next, always in search of something different, better, more fulfilling.
The truth is, I started my young adult life with great intentionality. I went to college to pursue a Journalism degree. I wanted to be a reporter and write breaking news stories, or so I thought. But as I got into my core classes, I quickly realized that wasn't the type of writing I wanted to pursue, so I changed my major my junior year to Communications. And while I loved my classes, it was such a broad degree and left me with little specificity on what to do with it once I graduated. So, I wandered.
WANDERING AROUND LEADS TO FINDING YOURSELF
Even if at a young age we think we know exactly what we want to do – life happens, in all of its glorious, scary, thrilling, twists and turns. A good many of us start down one path, only to find ourselves wandering down another, not quite sure how we got there.
Sometimes it takes wandering around a bit before we have a clear idea of which direction to go. These 'wandering' years are not 'lost' years. On the contrary, the years of growing, stretching, falling, bruising, laughing, crying and discovering are all necessary to form who we are today.
5 LESSONS
This season of my life amplified 5 life lessons I've always known but sometimes have been challenged to embrace. They are foundational and are important reminders for both me and my boys.
1. Claim every experience with passion and purpose.
Every single life experience has value and worth. Embrace them with passion as they help clarify your purpose.
2. Listen to your inner voice.
We all have one, but sadly it is often silenced by others, society or ourselves. Let your voice be strong and heard.
3. Be unapologetically bold.
Whatever it is you want to do, be fiercely bold in claiming that dream.
4. Fear is a liar.
Fear is strong but you are stronger. Do not let the fear of pursuing your passion stand in your way.
5. Do what you love.
Whether professionally or personally, always pursue that which you love.
WHAT'S NEXT?
It took losing my job to realize it was time to stop playing it safe, or jumping to the next comfortable thing. I needed to get real with what I really wanted to do, what I've been hardwired to do for as long as I can remember.
Pursuing writing as my calling and career is scary. It will mean no steady paycheck, initially. No benefits. No job security. Just me, my computer and my words to vulnerably share with the world. But there is nothing holding me back. There are no more excuses.
I'm not heartbroken that I was let go from my dream job, because it wasn't that. Instead, my dream job is staring back at me, on a little laptop. And I will pursue it, 26 letters at a time.